The restoration begins
As soon as my wife gave her blessing, I started looking for hangar space, which in itself was a big ordeal. The two local airports near me were both unfriendly to ultralights. Even if they welcomed me, the waiting list for hangers was months or even years long. I finally found an older gentleman who had a Cessna on his property and two hangers. One hanger was for his airplane and the other was rented out to others. He wanted $100 which was steep for me, but I figured I was between a rock and a hard place. I convinced my wife that I would take this space for now and look for something cheaper in the meantime. Oh, and did I mention, the hanger is 62 miles from my home?!
During this time, I disassembled, cleaned and painted every tube on my airplane and started the reassembly. I also looked for an engine because mine needed rebuilding. I finally found a person who claimed to be a retired airframe and powerplant mechanic who now deals with ultralights. He offered to send me a Rotax 377 that he had "gone through" and made sure there were no problems. He said it would be an engine that he would fly with so I need not worry. I was to pay about $500 plus shipping for this engine. I was to find out shortly that you get what you pay for.
I waited for the engine to arrive two weeks before I called the guy and asked him where my engine was. He had already cashed my check a week earlier. He promised to get it out to me in the next week. In the meantime, I transported all my tubes and other equipment to the hanger and started assembly. I used all new aircraft hardware and replaced all plastic components and such. The old girl started to take shape and look pretty spiffy! I had known of a guy who sold replacement parts for Quicksilver aircraft back when I was flying before. His name was Mark Smith.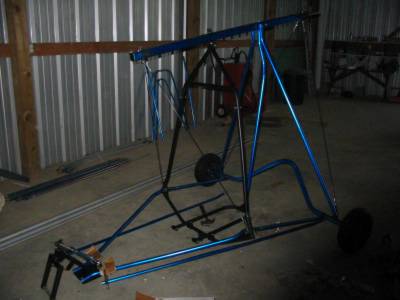 Initial construction of the "trike" portion of my Quicksilver MX. The black components are steel, the blue is aluminum.

Now Mark is a character. He's a straight shooter from the very beginning and is a Quicksilver guru! He makes fabric cover sets from bulk dacron, bends tubes, fabricates from steel, a regular metalworking genius. I come from the same cloth as a machinist, tool and die designer and manufacturing engineer, but Mark has got the setup to pump out the parts, so it's much easier and quicker to get them from him instead of make them myself. One thing it isn't.....cheap. Mark makes quality stuff and you pay for it, but you don't get raped in the process like the original manufacturer will do to you.
My MX was getting all sorts of aftermarket goodies like a steerable nosewheel, heavy duty trike and nose wires, and stuff like that. I have a complete list, but I'm sure you don't want to hear it. I'll make it a separate post later. The construction process went well and is well documented with photos.
About the time I'm ready to put on the wings, the engine arrives. It looks decent, and I immediately install it and plumb the fuel lines and wire the ignition. I attach the driveline that includes a new driveshaft coupling and new propeller shaft bearings. The muffler goes on, the wings go on, with a new (used) set of sails that I bought on eBay two years previous. The tail gets attached, all flying wires are hooked up. The seat goes on, the control cables and pushrods are attached, and before you know it, I'm ready to fly.